Google introduced the all new Search Options at its Searchology 2009 event. This is a useful feature that lets users slice and dice search results in various ways.
Here's an example:

[1]
Clicking on "Show options" (just below the Google logo) displays a box to the left of the results: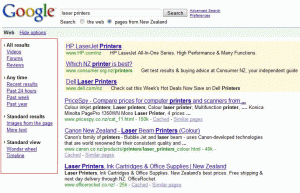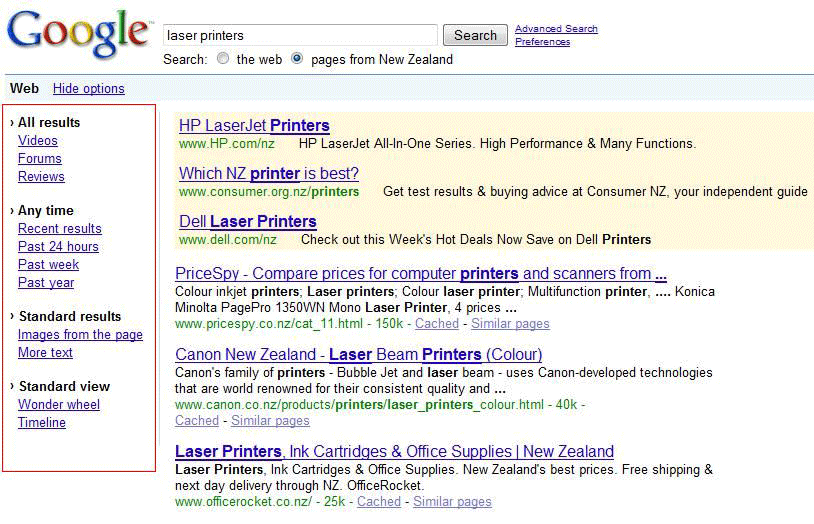 [2]
Clicking on "Show options" (just below the Google logo) displays a box to the left of the results:
The options allow you to restrict the results by content type or by publish date. This is much more convenient than going to the Advanced Search screen.
The content type refinement is currently limited to videos, forums and user reviews. By toggling on "Images from the page", you can see thumbnails of images pulled from the page displayed alongside the search listings. The "More text" option displays longer snippets for each result.
When viewing using the "Reviews" refinement option, Google replaces the standard snippets with content that is more representative of opinions expressed within the content of the page. Google does this by way of  sentiment analysis [3].
When viewing results restricted to a particular time period, you can sort by date or by relevance (relevance is the default). The only time periods offered are "recent", "past 24 hours", "past week", and "past year". You can specify other time periods quickly simply by modifying the Google SERPs URL.
To do so, first select one of the four given time-based options. For example, select "past week". Let's say you want to instead see results from the past month — which is not an available option. You would simply change the qdr:w at the end of the URL to qdr:m. The w stands for week, m stands for month. If you want to see results from the last three months instead of just one, simply specify qdr:m3 instead of qdr:m. For the past two years, use qdr:y2. Here's an example URL:
http://www.google.com/search?q=design%20patterns&sa=X&tbo=1&tbs=qdr:y2
One of my favorite new features is the Wonder Wheel. What a great tool for keyword research. It lets you explore keyword niches. As you can see below, by clicking on Wonder Wheel, the laser printers results are displayed diagrammatically with laser printers in the middle and related keyword categories around the perimeter.
If colour laser printer is clicked, it leads to more keywords surrounding colour laser printer. This happens in real time and Wonder Wheel is virtually a treasure chest for discovering new related keywords.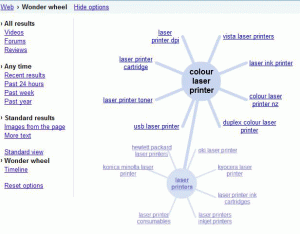 [4]
Ravi Venkatesan is a senior search marketing consultant at Netconcepts, our Auckland SEO firm [5] in New Zealand. He also posts regularly to the Online Marketer blog at www.onlinemarketer.co.nz