It is a known fact that Pay Per Click (PPC) model of advertising has contributed the most revenue to the Google coffers in the past few years. The fact that paid search contributes to only 12% of the total search traffic is fascinating with a bevy of tools flooding the market all promising to deliver the ultimate solution in paid search marketing.
Organic search is still the biggest driver of search traffic at a whopping 88%. Unlike paid search where results are measurable accurately and instantly, the organic SEO process is a long term strategy with measurable results becoming clearer over time. Yet, the big question in every online marketer's mind is – Which results do users trust more on search engines – the organic or paid results?
Evgenii Prussakov is a renowned affiliate marketing specialist and he delves into the minds of the average Joe/Jane online consumers by asking 107 questions in his book titled "Online Shopping Through Consumers Eyes: A Study Of Online Users' Responses To 107 QUestions" (found on Amazon).
The topics are wide ranging covering areas of general online advertising, B2C marketing, website usability and modern day online consumer behavior. This research provides a wealth of information to online marketers doing affiliate marketing, web analytics, SEO and web design.
The graphic below summarises the query which this post endeavors to answer.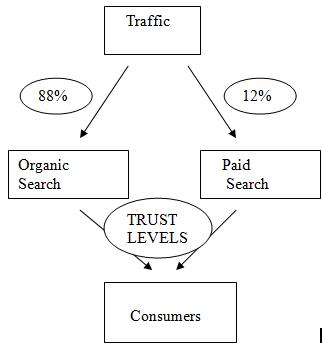 [1]
I will discuss a few of the questions and their responses which make really interesting reading. The questions and their answers are as follows:
The main question is about users trusting either natural results or sponsored results more on search engines. This question is preceded by another basic questions which reads:
Q: Do people know the difference between natural results and sponsored ads in search engines?
A: 18% say No and 82% say Yes
Now to the main question again:
Q: Do users have more trust in natural results than sponsored results?
A: Definitely not – 1.75%
Probably not – 6.55%
Maybe – 19.65%
Probably so – 36.68%
Definitely – 35.37%
Clearly, the results show that over 71% of the shoppers trust organic results over sponsored results. A majority state that they know the difference between natural and paid results and they trust the natural results more.
The results prove that organic SEO efforts lead to more traffic which in turn is more likely to trust your site and buy from your site. A result for your site (especially in the top 3) on page 1 of the SERPs delivers results big time. It would be well worth your time and effort to work hard and get your site ranked in the top pages of the SERPs.
Evgenii does not study factors related to the user's intention to shop online. He questions people who have shopped online and gleans their experience while going through the different stages of pre-purchase research, making the purchase and post-purchase interaction with the online business.
Some of the other unrelated questions deal with the situation of the customer clearing her web cookies, the amount of emails she has to process on a daily basis etc. These are of considerable interest to online marketers though. A good video [2] on which this post is based can be informative.
Ravi Venkatesan is a senior SEO consultant at Netconcepts, an Auckland SEO firm [3] specialising in organic search [4] and paid search [5] services to their customers in New Zealand and Australia.