Buying domains can be a tricky issue. A crucial factor in the success of an online start up is a fantastic domain name. It is easy for people to remember and link to the site. Domain names should be easy to spell, easy to say and have a .com extension.
If the domain name aptly represents the industry or niche it does business in, it can get direct traffic where users type it into the address bar and reach the site. It also represents your company in cyberspace and is the first port of call online.
There are two tricky issue involved in the buying of domains. The first is that you cannot use comparable sales figures (as in the case of real estate). The second is the intrinsic value of the domain name itself (as in the case of vehicle, jewellery etc). These are intangibles and cannot be used as bargaining chips at the negotiating table.
This post is based on an interesting writeup by James Siminoff, webpreneur and owner of phonetag.com and grid.com. James spent over $100,000 on grid.com and feels that valuable domains can be found for $10. The domain vibrator.com sold for $1 million and of late, toys.com sold for $1.25 million.
James has used his personal experiences in buying domains to arrive at a step by step process that should help you secure the domain you want.
1) Brainstorm Domain Names:
Maintain a list of the niches that interest you. When you look for short attractive names, chances are that they are taken most of the time. But the variations or combinations of those domain names can still be available. To help in your quest, James mentions a great resource called Dotomator.com
2) Check for availability of domains of interest:
Godaddy is a big player in the domain name registration business. You can use their bulk upload features to upload your list of domain names. The interface will tell you which domains are available and which domains have been taken.
Another good domain registration service is instantdomainsearch.com where availability of .com. .net and .org domains can be ascertained and a direct link to Godaddy site for registration of availbale domains is included. You can also do an encrypted search on this site.
3) Visit the auctioneer sites:
Domaintools.com provides a whois lookup of all expired, current and deleted domains. Sedo.com is an excellent site where you search for availability of domains and also park, buy and sell domain names.
4) Prune your domain list:
Domains can be broadly classified into four categories.
a) Real Business:
These are domains used for existing businesses. Such domains are very hard to get as they serve existing business interests. James mentions that he bought the domain trustme.com from an existing business and it was a hard slog getting it and increased the price as well.
b) Domain Squatter pages:
This is a common practice as people look at it as a business venture. Registering the maximum number of possible variations of a word as domains at $10 per head per annum gets the owner revenue if these domains are parked on sedo.com for example and sedo also gets to share the revenue with the owner. A good example is the Kauai.us domain.
Kauai is the oldest of the main Hawaiian islands and is a tourist destination of immense interest. A screenshot of the kauai.us site shows it is a parked domain monetised for Asdsense with the owner hoping that someone would want to hopefully buy it at the "right" price in future.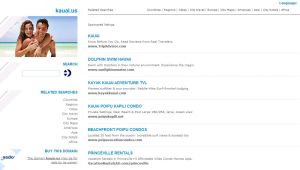 Such sites are easy to buy as most of them are up for sale. In the above example, there is a Buy this domain sign.
c) Pages with Site Under Construction sign:
There are two ways about it. Either a business is preparing its site for launch or a person has registered it and forgotten about it. Such domains are ideal to target. James has had good success with such domains.
d) Dead Pages:
Nothing comes up when the domain name is typed into the address bar. It is hard to predict whether it is available or not. James talks about the case of nobel.com, a domain owned by an insurance company. He already owned nobelcom.com and he figured it would cost him a fortune if he contacted the CEO about it.
Contacting the VP of the IT divison helped him plead at a human level and the company consented to sell the domain to him. James picked up the domain in lieu of something that would have cost $50,000 or more.
5) Contact the owner:
If a site is for sale, the link displayed or contact us link should enable you to contact the owner. Such messages have a higher success rate in making contact. Use the Wayback Machine to look at the old pages and contact details.
If unsuccessful, use the standard whois on a site like domaintools.com. It also offers a historical whois version.
6) Various approaches to contacting the domain owner:
James feels it is best to contact the owner first and find out if the domain is for sale and not make an offer straightaway.
a) Direct Contact:
If the owner is a student or someone who cannot be searched for on Google, then direct contact is the best way. James says that when he bought the domain grid.com, he had a hard time tracking down the real owner and accidentally revealed his webpreneur details to the owner by email. This mistake raised the stakes by about $50,000.
So, if you have documented success as a buyer, you are best not to reveal it as the status of the buyer can impact the final price.
b) Hiding your details:
A cheap way of making contact with the owner is throug a gmail or yahoo account with username as a pseudonym and the email signed with a name like Joe. This does not elicit much contact from the owner as you may appear to be a scammer.
An expensive way of doing this is through paid services which allow you to mask your details when contacting the owner. Godaddy and Networksolutions offer such services. James has had no success using this technique.
c) Optimal way is to hire a PR or law firm:
Hiring a small town law firm or PR firm has given James the best success in clinching domains like trustme.com and phonetag.com The service costs between $100 and $300. The owner can see she is contacted by a real person from a company and this prevents the price from getting inflated.
7) Domain Valuation:
James says that he has no comparables to evaluate domain name prices. It all boils down to what the owner is asking for. James does not have a budget in mind when approaching owners as he looks at them as assets as in real estate.
8.A rough guide to evaluate the domain name:
a) Number of letters in the domain name:
3 to 4 letter domain names are expensive and can sell between $5,000 and $500,000. A name with 5 letters and more becomes cheaper.
b) Number of words in the domain:
One word domain is high value. The more the number of words, the less valuable it becomes.
c) Easy to spell:
The easier it is to spell the domain name, the more valuable it is.
d) Reason for typing the domain name into the browser:
James draws a parallel between college.com and phonetag.com (he owns the latter). It would be worth getting a traffic analysis report from Compete.com The natural search traffic to college.com woud be much higher compared to phonetag.com
e) Natural flow of the domain name:
The more natural the flow of words is, the higher the domain would appreciate in value. James points out that a word like phone tag would be more natural than a random flow like micro soft (separated by a space).
f) How does this domain name affect your business?
A better domain name is more viral and easy to remember reducing customer acquisition costs. The worth of each customer and the current acquisition cost of each customer need to be factored into the final value.
9) Negotiation:
a) Reacting to ridiculous offers:
James mentions that the owner of bulk.com wanted $800,000 and he offered $35,000. The sale did not go through but owners can be sitting on their high perches with overexpectations.
b) I am not sure – what do you think?
The owner who has this question wants to negotiate for sure. James says he goes in at 20 to 30% below the bottom range of his budget.
NOTE: There can be legal issues here. If you write back saying you can buy it for $5,000 it becomes a legal contract that can be enforced in court. James advises that it is good to put in a rider something like – I can buy for $5,000 pending all terms are agreeable.
c) Spooking the seller:
If you agree to a price straightaway, then the owner is bound to develop sellers remorse concluding that he has underpriced the domain than what it is truly worth. James had this problem when buying grid.com and had to sue the owner to enforce the contract (out of court). Rather than get into legal situations, you would be well off negotiating the price down with the owner.
d) If the price is right:
If you feel that the seller's price is close to the market price, then there is no need to be over cautious about it. Just settle for it.
10) Get the agreement:
If the seller says yes to your offer, then it is a contract that is enforceable in court. Get the assent in writing. Once that is done, open up an escrow account at escrow.com and transfer the funds at the earliest. The quicker this is done, the harder it is for the seller to back out.
Enjoy the original writeup for 10 tips to buy a domain in its entirety. You cannot fail if you follow this process to the best of your ability depending on your individual cirumstances.
Ravi Venkatesan is a senior SEO consultant at Netconcepts, an Auckland search marketing company offering both natural search and paid search services to their customers in New Zealand and Australia.
test
Possible Related Posts
Posted by stephan of stephan on 08/23/2009
Permalink |

Email This Post |

Print | Trackback | Comments (0) | Comments RSS
Filed under: Domain Names, Search Engine Optimization, SEO approaches to contact domain owners, auckland natural search, auckland paid search, auckland search marketing, brainstorm domain names, dead pages, domain auction sites, domain buying tips, domain name evaluation, domain squatter pages, domain valuation, enforceable contract, hiring a law or pr firm, price negotiation, real business domains, site under construction, written agreement