During Part 1 of the Blindfolded SEO Audit [1], we started learning how to use Xenu and Excel to begin our SEO audit and focused on the foundational element, URLs.
Now let's move on to the most important signal a site's pages can send to the search engines, the all powerful title tag. Like URL constructs, sites often have nearly as many constructs for title tags. Three things that a quick scan of our data will tell us:
General constructs and patterns used
Title tag duplication
General sense of optimization quality (potentially)

Branding (or lack of) always jumps out quickly, of which we have a number of different examples:
three quarter sleeve sweater | Coldwater Creek
Apparel at Coldwater Creek
Coldwater Creek misses clothing.
Coldwater Creek
What about duplication? I expect to find some levels, especially on an ecommerce site or any site that features a pagination system. Most CMS or ecommerce systems don't provide a way, or at least an easy way, to modify the title tags (or headings and body copy) of individual paginated pages like GravityStream [2] can. However, I also want to see beyond the pagination to identify duplication across URLs/pages that really should be unique. In this case, these pages are cannibalizing and missing an opportunity to target additional phrases.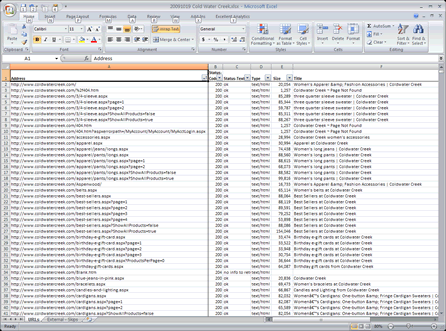 Best way to do that in this case is to sort by the title, rather than the URL, and then filter out those with a "page=" in them to clear out all the pagination and make reviewing easier (the specific sorting will vary depending on a site's constructs).
I quickly find some examples of title duplication.
Title: Clearance apparel at Coldwater Creek
Used on these URLs:
http://www.coldwatercreek.com/outlet-apparel.aspx
http://www.coldwatercreek.com/outlet-tops-and-tees.aspx
http://www.coldwatercreek.com/outlet-dresses.aspx
Title: Coldwater Creek
Used on these URLs:
http://www.coldwatercreek.com/blue-jeans-in-pink.aspx
http://www.coldwatercreek.com/Catalog/catalogRequest.aspx
http://www.coldwatercreek.com/cqo/cqo.aspx
Title: Coldwater Creek offers a great selection of women's denim jeans.
Used on these URLs:
http://www.coldwatercreek.com/classic-waist-jeans.aspx
http://www.coldwatercreek.com/lower-waist-jeans.aspx
http://www.coldwatercreek.com/natural-waist-jeans.aspx
http://www.coldwatercreek.com/shop-by-fit.aspx
Not to mention the store locations, which appear to not have titles at all. Of course I would still want to verify this against the actual site, but Xenu has quickly jump started the audit process by pointing to areas of concern. It may not find the needle in the haystack, but it does move the hay from the field to the stack to begin, and sometimes cuts the stack down into manageable bales.
Some of the title tags above are okay and maybe are the most optimal … only keyword research combined with site analytics will reveal that. What we do know though is that duplicating the same title across different 4 pages means at least 3 of them are not optimal and we've created keyword cannibalization. Just based on the URLs, I can also tell that there are probably better, more targeted titles that could be used.
Whether a site's title tags are manually or programmatically optimized doesn't really matter. What does matter is that the title tag is the strongest and easiest signal that a site owner has control over. This is the juiciest, ripest, most important low hanging fruit opportunity that many sites continue to miss.
A couple more interesting bits of information we can get from Xenu that also probably go mostly unnoticed, are the Level, Links Out and Links In columns. Level may not be exact, but we can get a quick idea of how deep, based on click and crawl path, content is. While purely site related, the links information can give us a quick view as to internal linking strength, identifying which pages or sections may undervalued or serving as internal hubs.
Hopefully this proved an interesting exercise. While I wouldn't recommend doing a real SEO site audit blindfolded, I definitely recommend reviewing your site in new and different ways and removing some of the visual cues (and clutter) to see how the bots view some of the site's most important signals. Remember that Xenu doesn't provide the answers, but at least helps to identify areas that may be problematic and helps to better make sense of the foundation of a site … especially if that site consists of hundreds of thousands or millions of URLs.
This is also a great training tool and a way to further hone your skill set. I'll liken it to Luke Skywalker's blindfolded lightsaber training … one must move beyond seeing to feeling. May the SEO be with you.