Today's post covers ten practical actionable SEO techniques that can give your site a major boost and help it achieve better visibility in the major search engines. These observations are made by Whitespark, a SEOmoz member who attended the recent SEOMoz PRO Training series.
These tips are easy to implement and will suit a majority of the businesses on the web. With paid traffic getting more expensive with each passing day (and yet providing only 12% of traffic on the web), it is high time all website owners started ramping up their organic seo efforts. These tips will certainly help in improving a site's natural search visibility which still accounts for 88% of the traffic on the web.
There are a few proprietary tools (created by SEOMoz) that are mentioned in the post. These tools do a great job of automating the mundane tasks thus saving valuable time and giving great results to help you plan your strategy. You have to be a paid PRO member to access these tools.
1) Request for a link in customer communications:
There are many opportunities arising in the course of a site owner communicating with a customer in the entire buying cycle. In your emails, you will be well advised to ask for a link in a courteous manner.
It could read – "If you have a website or blog, we would appreciate if you could link to us by copying this code Anchor text that suits your business."
NOTE:
a) Vary the anchor text subtly in your emails
b) If possible, get links to your inner money pages
2) Use of Top Pages Tool To Identify Competitor's Backlinks:
The Top Pages tool is a great way to see your competitor's backlinks by just plugging in their site URL. The screenshot below helps you get an idea.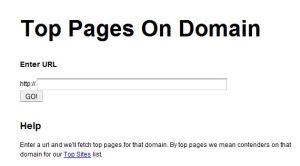 You can then create suitable linkbait that can attract links from those sites that are already linking to your competitor. Else, you can email the powerful domain owners and request for a link after you have referenced their site post or article on your own blog or your site. This will help answer the other domain owner's question – "What is in it for me?" and thus incentivize her to link to your site.
3) Use Adwords Tool To Find Keywords That Have High Search Volume And Low Competition:
Many of us are prone to miss the obvious Adams in many things we do in life. This point is a classic example. In most cases, these money keywords are long tail keywords that can be optimised through on page factors and made to rank well in the major search engines.
A search for pet collar using the Adwords keyword tool results in the following screenshot:


The term
has a search volume of 49500 with limited advertiser competition. If your site is in the pet industry business, this will be a good keyword to target.
4) Use of Top Pages Tool To Find Linking Pages To Your Domain That Need A Redirect:
The Top Pages tool mentioned in (2) above is very useful to identify links from external sites to pages on your domain that are currently maybe showing a 404 Error or temporary redirects etc, whatever the case maybe.
You can then use 301 redirects to preserve and forward the inherent link juice on such pages to the latest updated versions on your site. I am reproducing a screenshot of the original post which clearly explains what I have written.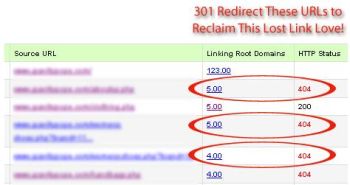 If you are the site owner, then the access to Google Webmaster Central will help you identify the 404 pages. It can be a problem if you are doing research for a potential client.
There is another instance where an entire domain has been 301 redirected to a new domain. If the old domain had pages with 404 errors, then a 301 redirect to them is still going to show up as 404 errors as far as Google is concerned. These are lost pages and will not show up in the Webmaster Tools when the new domain is analyzed.
But Top Pages tool does show up these lost pages. It is invaluable data to rectify the lost pages and gain their link juice by 301 ing them to the appropriate pages on the new domain.
5) Competitive Link Finder Tool To Build Your Site External Profile:
The new Competitive Link Finder tool released by SEOmoz is a powerful aid that helps you identify the linking sites that link to multiple competitors in your industry.
You have to plug in your site URL and atleast three of your competitor sites to get the best results. You can always email such domains that link to your industry competitors and get a link to your site as well.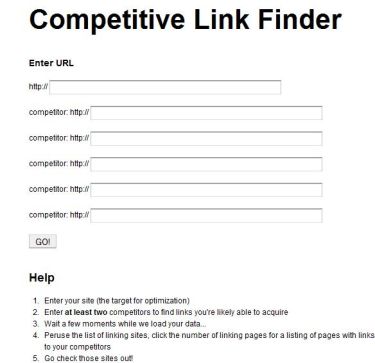 6) Optimize Your Google Local Listings:
Google local listings are a huge asset for any business to be listed on the first page for the most representative search phrase of their industry. It is helpful if the business is physically located close to the city.
I have found that a good local backlink profile boosts a site on Google local search. This can be achieved by submitting to local directories and other businesses in the same local geographical location in which the business operates.
David Mihm is an authority on local search issues and his points at the SEOMoz Pro Conference are outlined below:
a) Claim your local listing on Google (even if you make a multiple submit). This is given more value by Google than a bulk upload that is susceptible to spam.
b) Use keywords in the business title when submitting a local listing. Avoid keyword stuffing the title.
c) Add custom categories that your business offers. This can be a helpful ranking factor. Use the maximum number of permitted custom categories.
d) Citations are the links of Google Local rankings. Get listed on Localeze, InfoUSA, Openlist.com, etc. Americans should check out this list of places to get citations
Others should check out David's guides to citations in Canada, UK Citations, Citations in Australia and Continental Europe Citations
You can use the search engines to find even more citation sources:
yourcity, st blog
yourcity, st directory
yourindustry, st blog
yourindustry, st directory
yourindustry yourcity, st blog
yourindustry yourstate directory
7)Buyind paid advertisements on Google Content Network:
There is a tip on buying advertisements on sites listed on the Google Content Network. Sites listed there are maximising their revenue through Adsense and would be more open to paid link advertisements. It is each individual site owner's call whether to adopt this strategy or not.
8. Increase Link Love By Becoming A Green Business:
If a business goes green online, it is a good way of attracting links from authoritative domains. There are many sites like Ethical Directory, EcoFirms.org, Guide Me Green etc willing to give your site a link provided it is a green one. This also reflects on a business owner's willingness to be eco friendly. With global warming taking centerstage, this issue is all the more vital.
9) Work on Your Conversion Rate Optimization (CRO):
A good majority amongst us (especially in the SEO industry) are obsessed with rankings and traffic. Conversion of visitors into paid customers often takes a backseat. Ben Jesson's CRO presentation provided a wealth of information and lot of food for thought.
You could make a good start by learning your customers' needs once they land on your site. This can be done by implementing tools on your website from which you can learn what your customers are looking for.
Get some unbiased feedback from other folks who are not your friends or relatives. The more the site is torn to shreds, the better it is as an eye opener for you to take instant remedial action. A good list of tools for learning from your customers are:
You would be well off checking these great Conversion rate optimization articles and sign up for the newsletter on their site.
10) Seth's Marketing Opportunity Calculator:
To help you in your sales pitch efforts, it is worth your effort in taking a look at Seth's Marketing Opportunity calulator. You can download his slides and spreadsheets at How to Win SEO Budget and Influence your CMO
Whitespark's entire post titled 10 Valuable, Actionable, Take-Aways From the SEOmoz Pro Training Seminar is a great read on which this post is based.
My post titled Next Frontier In Search Marketing gives the traffic figures for seo and ppc.
Ravi Venkatesan is a senior SEO consultant at Netconcepts, an Auckland search engine optimisation company offering both natural search and Auckland pay per click marketing services to their customers in New Zealand and Australia.
Possible Related Posts
Posted by Ravi of Netconcepts Ltd. on 09/06/2009
Permalink |

Email This Post |

Print | Trackback | Comments (0) | Comments RSS
Filed under: Best Practices, Conferences, Link Building, Local Search Optimization, Search Engine Optimization, SEO, Tools 301 redirects, adwords keyword tool, competitor link finder tool, google local listing optimization, green business, high search and low competition keywords, identify competitor backlinks, link request from customer, paid advertisements on google content network, seth's marketing opportunity calculator, top pages tool